Industry leading Virtual Scribe program improves physician satisfaction and wellness by reducing EHR/EMR documentation burdens.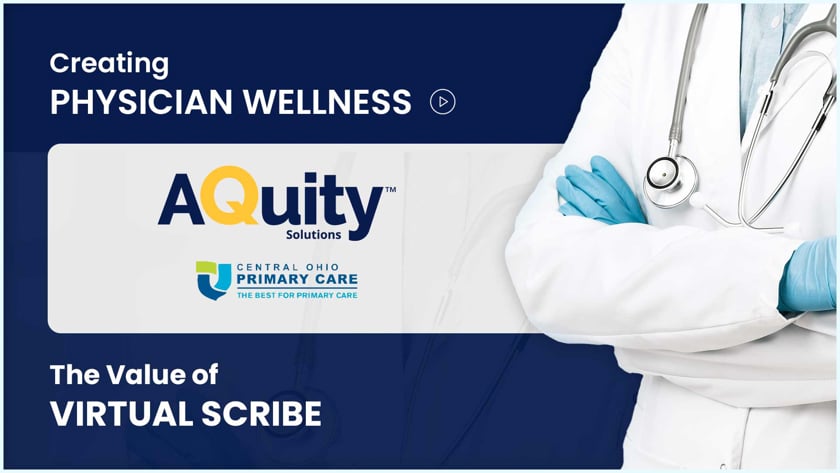 Creating Physician Wellness - The Value of Virtual Scribes
Just what the Physician (and Patient) Ordered
Aquity Solutions was amongst the first to offer virtual scribing services back in 2017 and continues to lead the industry with flexible workflow models that increase patient face time, strengthen report quality, and improve physician satisfaction. Today, we provide scribing services to thousands of physicians coast to coast, from basic stress relieving support for individual physician practices to boosting clinical and financial results gains through hundreds of scribes assigned to nationally known hospital systems. Aquity's real-time scribe, ScribeAssist™ and DynaScribe™ workflow options relieve physician burnout, minimize keyboarding time, and accelerate accurate chart closures.
Unlike onsite scribes, which are inherently limited to one-on-one physician/scribe relationships, Aquity's virtual scribe approach assigns a primary scribe for 75% of a physician's workload and splits the remaining patient encounters between a pair of back-ups. That way, if any individual scribe moves on in their career or simply goes on vacation, your physicians do not have to return to their previous documentation methods until another scribe is recruited and trained from the ground up.
AQuity Scribes Consistently Deliver
AQuity's game changing mix of technology and services ensures complete and accurate coding results. We improve the productivity and quality of your documentation process with the help of our highly trained and credentialed team to meet the varying workflow needs of your organization, all backed by the 3M/MModal Fluency line of technology, recognized as the best in the industry.
20% increase in daily patient encounters
98% same-day chart closure rates
12% increase in average RVU's
Measurably reduced physician burnout
Total Hours of Virtual Scribe Support Last Month
Average Live Scribe Same Day Chart Closures Last Month
New Providers Live with AQuity Scribes Last Month
Although virtual, Aquity scribes become trusted personal assistants who regularly expand their physician support beyond basic discrete and non-discrete chart completion duties. To learn more about how our scribes improve the quality of your clinical documentation, deliver measurable improvements to your clinical and financial outcomes, and give physicians back their personal time, contact us today at info@aquitysolutions.com
Virtual Scribing Workflow
AQuity offers three distinct virtual scribe workflow models to accommodate the personally preferred physician documentation methods. Real-time scribe enables physicians and scribes to interact in real-time during and post- the actual patient encounters via a HIPAA compliant secure audio connection. ScribeAssist relies on recordings of the patient encounters along with any supplemental post-encounter instructions. DynaScribe relies solely on recordings of post-encounter input instructions and is ideal for orthopedics and other extended patient encounter specialties where minimal visit details are needed in the clinical documentation. All three workflow models address discrete and non-discrete EHR input requirements, including preparation of pharmacy and lab orders.
Real-Time Virtual Scribes
ScribeAssist™
DynaScribe™
Real-Time Virtual Scribes
Scribes can perform basic pre-chart review to prompt physicians based on earlier visit details
Scribe listens during the encounters and, depending on physician preference, may interact
Discrete/non-discrete input, including pharmacy and lab orders, reviewed between patients
Physicians can supplement EHR input between patients by speaking with scribes in real-time
Encounter documentation is reviewed and typically signed-off prior to seeing the next patient
Real-Time Virtual Scribes virtual scribing services are billed hourly
ScribeAssist™
DynaScribe™
AQuity's scribes function as virtual assistants to relieve physician burnout, minimize physician keyboarding time, and increase patient face time. Aquity scribes work directly in the provider's EHR via remote access and are responsible for completing the encounter documentation, including discrete and non-discrete data input, to significantly improve document quality and increase same-day chart closures.
Documents generated through the three workflow models: real-time scribe (real-time support during and post encounters), ScribeAssist (encounter and post-encounter recording driven input), and DynaScribe (exclusively post-encounter recording driven input); each help Aquity deliver better clinical and financial results by helping physicians focus on care and not on clicks.
AQuity scribing services are supported by the Fluency For Scribing™ FFS suite of software. FFS leverages speech understanding and other CDI-type AI tools that prompt scribes, based on real-time document input, to confirm encounter details which could potentially impact clinical or financial results. Validating or resolving the prompts ensures optimum report clarity for maximum allowable reimbursements through traditional payers and support of value-based care reporting requirements.
Audio exchange for real-time scribe and ScribeAssist supported encounters are achieved with a two-way speaker managed through a HIPAA compliant secure connection. DynaScribe recordings can be captured with a similar two-way speaker device, speech mic, or toll-free number phone call depending on physician preference.
Under all three AQuity virtual scribe workflow models, primary team members are assigned for each individual physician and supported by multiple back-ups. Back-up team members shadow the primary scribe during their ramp-up phase and then regularly handle a portion of the physician's weekly encounters to ensure consistent service levels and readily available support should the physician's primary scribe's availability change.
During initial service ramp-up, scribes complete the same provider organization EHR training required of physicians to ensure familiarity with site specific system configurations and documentation conventions. During ongoing operations, primary scribes train their back-ups during their onboarding and shadowing phases to ensure ongoing compliance for both provider organization and individual physician expectations.
AxQuity recognizes the value of our scribing services are highly dependent on the quality of the relationships between the physician and their assigned scribe. The AQuity scribe management team employs proprietary scribe-to-physician matching and ongoing support methodologies to ensure mutually rewarding relationships that consider the evolving expectations of the physicians along with potentially changing career objectives of the scribes. Care is taken to ensure positive growth of these relationship expectations as a foundation of our service and serves as a unique competitive differentiator which improves assignment tenure and service value for all parties involved.